The saints in heaven are not dead. Those who die in Christ are now alive in Christ in Heaven. (Mark 9:4, Luke 23:43, Rev. 6:9-11, 1 Cor. 12:12-27, Heb. 12:1, 12:22-24)
St. Elizabeth Ann Seton is the patron saint of our homeschool. She is the first native-born American to be canonized in the Catholic Church. Elizabeth Ann Bayley was born in the year 1774 into a socially prominent family. Her father was a surgeon. Elizabeth was raised in what would become, the Episcopal Church. Her mother died when she was a very young girl. Elizabeth was given the best education for a young lady at that time.
When Elizabeth was 19, she married William Seton, a wealthy businessman who worked with import trading. They had five children. During the War of 1812, his shipping business was destroyed. William Seton had suffered from Tuberculosis for years. When his health started to decline rapidly, William and Elizabeth to set sail for warmer climates in hopes of bringing relief to his disease. They brought along their oldest daughter.
William, Elizabeth and Anna were held in quarantine from officials in the Port of Leghorn, Italy. The officials thought they had brought the yellow fever with them. After one month in quarantine, William passed away from TB. His former business associates (the Filicchi family) in Italy took the widow and young daughter in for six months. The Filicchi family introduced Elizabeth to Catholicism. It was in Italy that she developed a strong devotion to the Holy Eucharist and the Mass.
Once back in New York, widow Seton was received into the Catholic Church on March 14, 1805. Entering into the Catholic Church, she was financially and emotionally cut off from her and William's families. In order to survive with her five children, she had started an academy for young ladies. Once news of her conversion spread, the families of the young ladies withdrew from her academy.
After living through many difficulties, Elizabeth received and accepted an invitation to establish a religious community in Emmitsburg, Maryland dedicated to care for children of the poor in 1809. This school was the first free Catholic school in the nation. The congregation was initially called the Sisters of Charity of St. Joseph and she would come to be called, Mother Seton. In 1811, the sisters adopted the rules of the Daughters of Charity, co-founded in France by St. Vincent de Paul and St. Luise de Marillac.
She spent the remainder of her life developing the new congregation and having to bury two of her daughters. St. Elizabeth Ann Seton passed away on January 4, 1821. Her remains are entombed in the National Shrine of St. Elizabeth Ann Seton in Emmitsburg, Maryland. Her legacy is quite lengthy with countless schools, hospitals, and religious congregations stemming from her charitable works.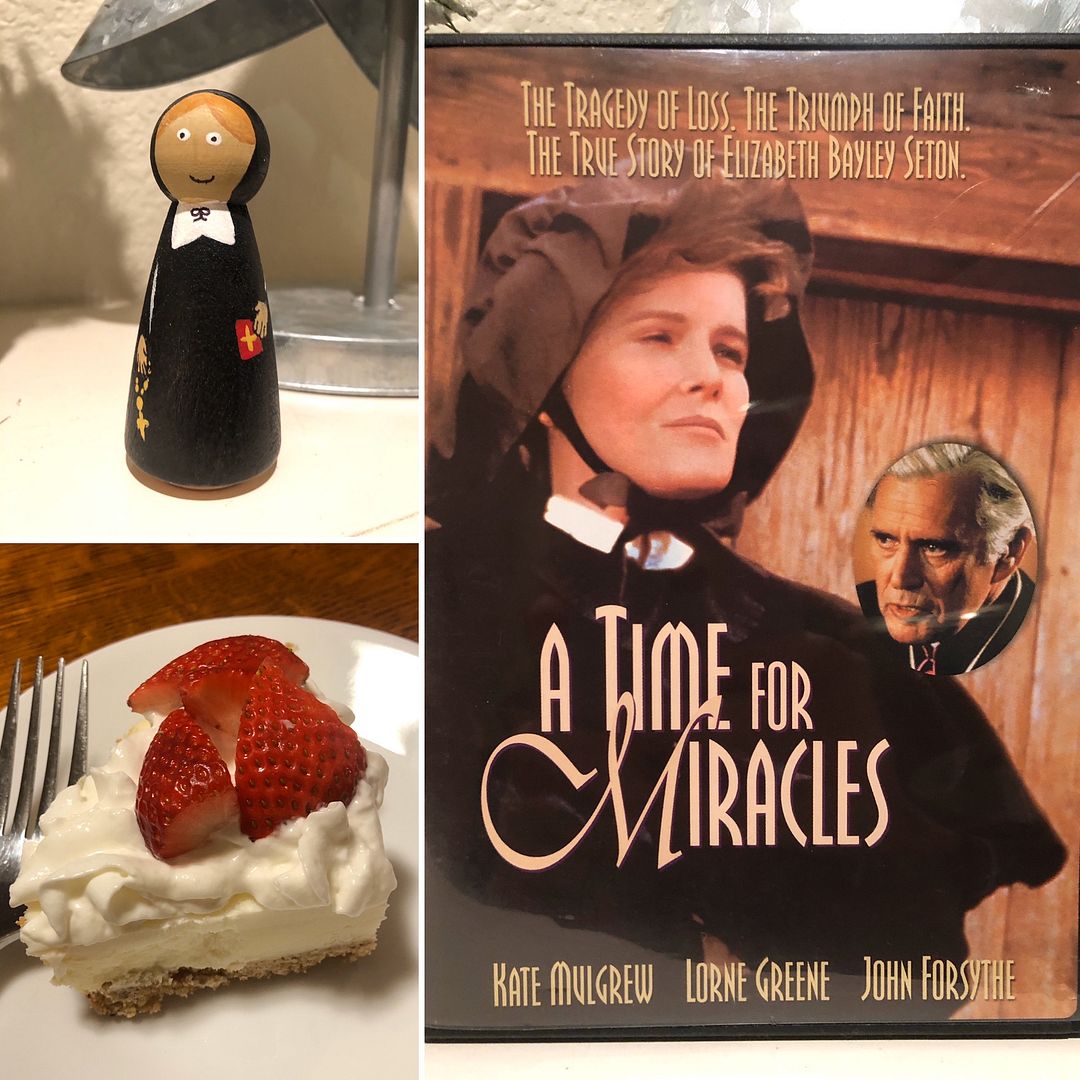 We celebrate her feast day each year. This year, we decided to have
Sara Lee
New York style cheesecake for dessert and re-watch,
A Time for Miracles
(a movie based on Elizabeth Ann Seton).
St. Elizabeth Ann Seton, pray for us!
********************************
The Feast of the Epiphany, also known as Three Kings Day, marks a visit to baby Jesus by the three kings (magi) on the evening of the 12th Day of Christmas. The Greek work 'Epiphany' means to show. It refers to Jesus being revealed to the world.
This year, I added another book to our collection of
Epiphany books
,
Home by Another Way
. We had a few laughs over the description of King Herod. How else can you describe a mean, evil king other than in a way that paints a picture of onion breath and foul body odor? And from
Catholic All Year
, we made Kendra Tierney's idea of a king's cake by using three cans of cinnamon rolls. It was so easy peasy (and yummy)!
It is especially fitting since my chosen word for the year is SIMPLICITY.
This celebration officially wrapped up our Christmas at home. With the decorations (mostly) boxed and stored, we have begun school this week.
******************************
And as I type this, our weather is looking scary. Tornadoes can happen during winter times in the south, and we are currently under a tornado watch. So I am off now to pay closer attention to the weather. Have a wonderful weekend!
Patty